Before moving towards making of a QR code in Canva, let us first explore about QR codes a little bit. So, let's look at QR codes along with easy steps to make a code in Canva. Let's dig in.
What Is QR Code?
A QR code is similar to a barcode. Like you scan the barcode, you must also scan a QR code. For getting your hands on the person, business, or any other authority information. By using a mobile phone or a tablet, you can easily scan the image using your built-in camera. Every QR code comprises many black squares along with dots that give you access to the user's information.
How To Design A QR Code in Canva?
Canva is a basic and easy tool for helping you design even without any knowledge of graphic designing. Let's have a look at the steps. So,
Start Canva
Firstly, you need to open and launch canva. All you need to do is to search for the desired template and proceed with your creativity. No matter what type of code you want to design, you can easily start up from a blank area.
Pick Template, Color Theme, And Font
If you have any previous knowledge about canva designs and do some work on business cards, posts, flyers and posters. You might know how to start up. So, all you need to do is to search for a template and drag/drop it on a blank sheet.
Make Space for Code
Once you are done with the template and layout. It's time to create your text and design according to your choice. You can also adjust and rearrange the available elements of the board to make a proper and adaptive space for your QR code. Make sure that your layout is balanced.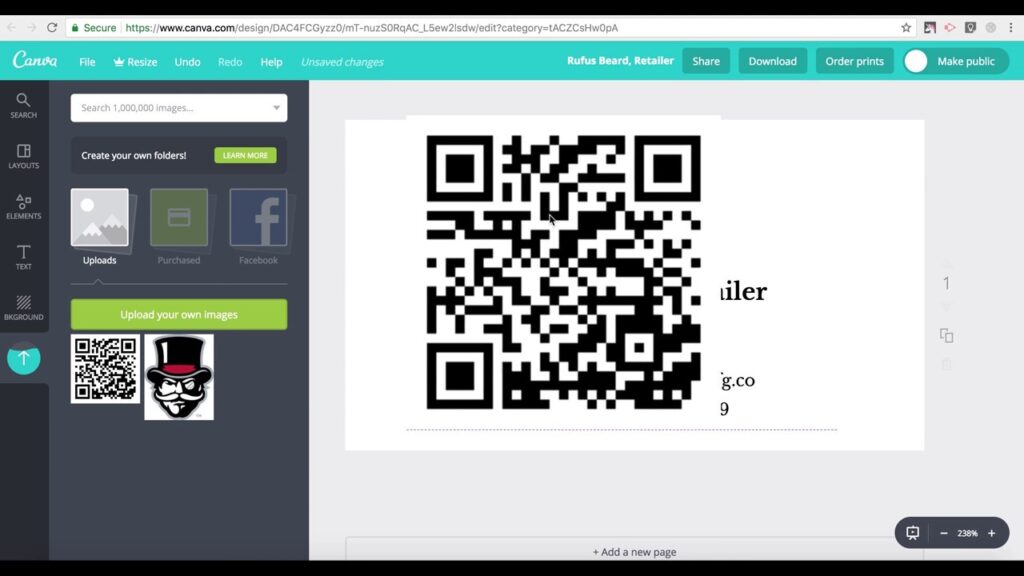 Select "MORE" present on the left bar
After selecting the more option, you will be able to look for additional elements to enhance your code's beauty. So select the QR code option from the board. Now enter the URL of your desired content and place it on the available space.
Customize Your QR Code
Once you notice that you have achieved what you wanted, you can fix the size and the parameters of the code accordingly. Now fill in colors to increase the beauty of the code and place a border around the box. Doing so will help you divert the attention of the user. Now save and download the QR code in JPG or PNG form.
Creating A Unique Code for Attracting Customers
Your success is totally dependent on your idea and design. So, when you use an excellent marketing strategy, you directly target a high public, enhancing your chances of leading. Nowadays, there are so many companies in the market. But you need a different and unique identity to target people's attention and pump-up innovation.
So, take the help of the QR codes to let people register for the upcoming events and seminars. You can also make a QR code to update your consumers about new launching products.
Canva QR generator allows you to produce a attractive and intriguing code. So, you can also change up the color of the code and add notes, frames, and logos to represent your business. By designing a square code and adding a border, you not only do brand but also leave a mark on your business.